How to Create a SSP Endpoint ?
SSP Endpoint Management
 SSP –  How to create an SSP Endpoint?
Click on the Partner management tab from the menu–> then click on the SSP Endpoint option. Click on the "Add SSP Endpoint" button, which is on the right top corner of the console.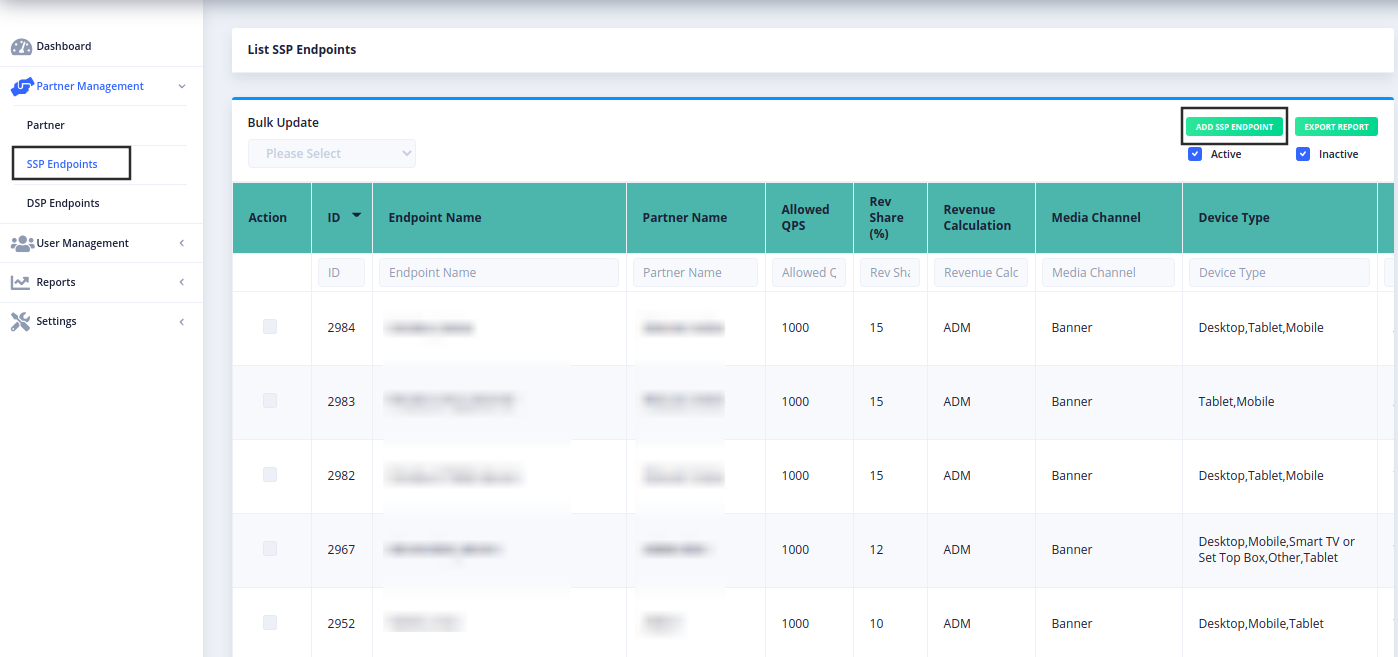 Once users click on the "ADD SSP ENDPOINT" button, it will redirect to the "Create SSP Endpoint" page. Create an SSP Endpoint page that has different sections 1) Basic Information 2) Capping 3) Cookies Sync 4) DSP Endpoint selection 5) Targeting.
Enter the Basic information ("*" are the Mandatory fields)
Partner Name* (Name of partner you created while creating partner) — This is a drop-down

tab, where you can select the

partner

which you created earlier. (For Ex. OwnAdX partner)

Endpoint Name* – Here the user will enter the "Endpoint name"
Region* – This is a drop-down tab, which shows you server location of your seat.
Media Channel* – Here you can select the required media channel for Targeting purposes.
Device Type* – Here you can select the required Device Type for Targeting purposes.
Environment* –  Here you can select the required Device Type for Targeting purposes.
Status* – This drop-down tab allows you to control the active and inactive status of an endpoint.
Rev Share(%)* – Revenue Share in percentage, a margin that you want to keep for yourself for e.g. if you keep it at 30%; out of $100 earned, $30 will be your margin/profit.
Revenue Calculation*(ADM or NURL) – This is a drop-down tab, here you can select how your particular SSP calculates revenue.
Default Tmax(10ms-200ms) – Here you can enter the default TMax value supported by SSP.
 Default Bid Floor($) – You can set the Bid Floor

here based on your SSP requirement.

Comment Section – Here you mention information regarding that particular SSP.
Report API – Here user will able to copy the Report API of the SSP Endpoint.

Enter the Capping* / QPS (Queries per second) – This helps you to decide incoming request from your SSP
 Cookies Sync* –  Cookies Sync URL.
DSP Endpoint selection*(Mapping section) – Here you need to select the DSP endpoint which you have to map on that particular SSP.
Targeting Section* — This will allow you to whitelist and blacklist "creative list"